The wraps have just been removed from Minute Man's coat. I often use a grooming aid on young animals shown in the side view. When animals are first being taught to stand still for grooming it can be helpful to place them on an elevated platform that is just big enough for them to stand on - in this case an inverted Tupperware type container. It tends to help keep the animal stationary which is especially helpful when you are first learning to wrap - a quiet cavy is much easier to work with.
It is important when grooming to avoid needless loss of hair. Every strand of hair adds to density and a pulled out strand takes months to recover so be easy when grooming. If you get in the habit of grooming your animals at least every third day - I prefer every other day - you will lose much less hair. Knots and matts can form quickly and although they can often be removed it takes patience on both your and the cavies part to accomplish. Prevention is definitely the better way to go.
The first thing I do after removing the wraps is to finger groom the cavy. this is done by gently going through the coat and feeling for small tangles. If any are found they are carefully separated with the fingers. Persistent tangles may require the use of a detangler, waterless shampoo or the like. These may be used between baths but must be removed from the coat prior to showing.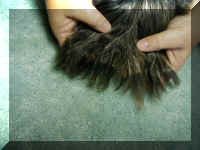 After finger brushing the coat I go over the coat with my medium tooth steel comb being sure the coat is free of tangles and lies smoothly.
This is the point in grooming where I decide if a bath is required. Generally I bath my animals every three to four weeks. However, if I notice that an animal's hair is starting to get a sticky or tacky feel during combing I know that a bath is in order. Boars often get a gummy deposit in the rear section. This can be spot washed as the waxy substance can quickly cause big knots in the rear sweep if not addressed.
This is also the point in time when I check my animals for any external parasites or signs of coat breakage. Show animals are constantly exposed to lice and mites at shows and every breeder/exhibitor needs to have some sort of program in place to deal with the pesky things. I use several different things depending on the situation. the most important thing though is to check for them. Remember it is no disgrace to find a louse or evidence of mites but it is a disgrace to just leave them there and spread them around. They are fairly easy to eradicate.
This is also a good time to check if any nails need to be trimmed and to check ears, eyes and teeth for any problems. General body condition should be looked at as well and either excessive weight or underweight should be evaluated. Animals should be weighed at least once a month and before each show to ensure they are in the appropriate class.